In the face of the COVID-19 pandemic, churches and networks all over the world have been reconsidering the way they normally function. Many have had to give up on plans that they had for the year. Gospel City Network (GCN), Malaysia, would attest to that as they had a lot of re-ordering to do when it came to their plans for 2020.
Growing A Network In the Pandemic
The story of the Gospel City Network, Malaysia

It all started with KL 2020, a large-scale conference in January with Timothy Keller, which was a tremendous success in terms of sparking gospel conversations among leaders and members of the church. GCN had hoped to use the traction to lead up to another big conference called Gospel Essentials with John Piper in March, where they had planned two main trainings – one specifically for church leaders, and another for church believers. This conference was designed to serve three purposes:
GCN would be able to establish a strong connection with church leaders and spark conversations with them.

They could build a gospel momentum within the city since believers would hear a good gospel message and they would talk about it.

GCN would expose leaders to four immersion modules so as to give them a small taste of what a church under GCN would have at the core of a gospel-centered ministry and thereby recruit potential church planters and observers for the CTCAP KL Intensive that was scheduled for November 2020.
But soon after COVID-19 was declared to be a pandemic, GCN was forced to call off the Gospel Essentials conference and they had to think on their feet. Everyone, from the trainers  to the administration staff asked themselves the question, "How do we continue to deliver all the content we had prepared?" In response, the team decided to have all the planned courses and discussions online through a series of free webinars. They sent out invites to all the participants who had signed up for the conference to free webinars on the very same topics that they had paid for to listen to and learn about. In addition, they also pushed it out on social media.
This resulted in an overwhelming response in no time for the first webinar on Idolatry, to a point where GCN had to close registrations because they had reached maximum capacity two weeks ahead of time! It was safe to say that the first webinar was a success and they were able to engage in conversations over emails and soon enough, about 60% of the participants would return and sign up for the next webinar while the remaining 40% would be new people.
GCN has since then held webinars on Gospel Third Way, Gospel Renewal and today they are kicking off their fourth webinar on Contextualization and they plan to do Conflict Management in the next edition and finally end the series with Sonship.
They did not stop just yet! GCN in partnership with China Partnership, decided to run these modules in Mandarin as well for the strong Chinese-speaking community in Malaysia. With Pastor Gideon Lim who serves as the chairman of GCN spearheading the Mandarin webinars, they have held two sessions so far with more in the pipeline.
Another positive aspect was gospel collaborations. GCN was able to collaborate with various organizations to do webinars and grow in partnerships. For instance, they collaborated with Resource Global to do an online workshop on Faith & Work. Another partnership between the Parakaleo wings of GCN and CTC Japan resulted in a Parakaleo webinar which spurred a huge interest in India and now the Malaysian team is supporting and facilitating Parakaleo India with their online training!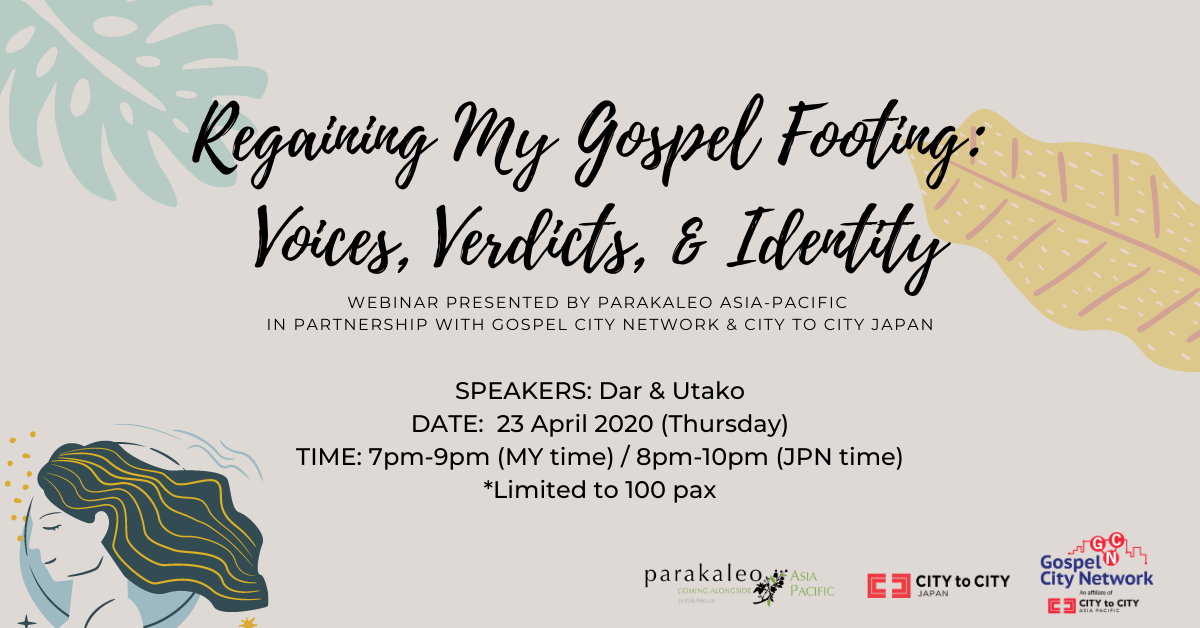 The recent webinars and online training programs have gained a lot of momentum and GCN, with the help of their new Training Director are exploring post-learning discussion boards and other online learning platforms. But the future presents many challenges when it comes to how to take this forward. The big question GCN is asking now is how they can continue to pursue the people who have attended online training to tug at an online gospel city evangelism. The aim now is to figure out how to build a peer-learning environment around all the content that was presented in the webinars.
Going forward, we do not know what is really happening on a tangible level in the hearts of the people who have gone through our online training. We got to trust that God is using this to affect people's lives. We are simply proclaiming the gospel and the implications of the gospel, but we trust the Spirit to bring real change and lead them forward."




– Massimo Gei, Executive Director, Gospel City Network, Malaysia